The Blues' narrow victory over Japan this Saturday (15-20) in Tokyo will have been marked by the success of Matthis Lebel, the massacre of Yoan Tanga but also by the disappointing performances of Maxime Lucu and Thomas Jolmès.
15. MaxSpring: 4.5 / 10
The Racingman will retain a contrasting memory of his first cap. He fixates on the first Japanese test (13th) and gets carried away by Leitch's feint in the second (40th). Offensively, in the rare balls he traded, he made his support and explosiveness speak, as in this climb (35th) or this advance (64th). One ball caught in the air (16th), another released (50th). His kick game allows him to find a good penalty kick (4th). His pass to follow for Macalou (65th) has looked pretty good but has not been rewarded. He ended up with a striker in dismissal who could have been expensive (73rd) and with a very daring recovery of his goal (78th). Talent but still inexperienced.
14. Damian Penaud: 4.5 / 10
The best scorer of the tricolor test did not score, which is rare. Mostly, on defense, he got caught. It is too tight on the first attempt (13th) and thus generates the mini-lag perfectly exploited by the Japanese. In the second, he fails to avoid passing after contact. Little in sight offensively: Vakatawa's cross (4th) was not exploitable, was well contained by his vis-à-vis (39th) and was almost in contact when Jalibert moved him (44th). His shot to follow (24th) looked pretty good. Replaced by Sekou Macalou (64th), close to scoring a try after a shot to follow.
13. Virimi Vakatawa: 5/10
As in the first test, the center will not have exploded. Fifita tries to overtake (5th) but, failing to do so, tries an inaccurate crossing (5th). It was regularly contained by Japanese defenders. His technique can still do feats like in the jump for the test of Matthis Lebel (9th) but, individually, we have not yet found the Vakatawa of the great years.
12. Yoram Moefana: 6/10
After his first test, the Bordeaux man had started with acute interventions. Without being able to cross the line. Subsequently, we saw it working less without it denoting. He will continue to be one of the great players in the victory thanks to his entry into the goal line that will have invalidated Tatafu's last attempt (75th).
11. Matthis Lebel: 7/10
The Tolousain was on a great day. After his season finale, he has shown his confidence to go and score a pure end try at the end of the line, overflowing his vis-à-vis (9th). He was on the verge of doubling up after again depositing his direct rival (21st). Good in the air (30th), he recovered and took good advantage of a ball that provided an outstanding (44th). He is in good shape and noticeable.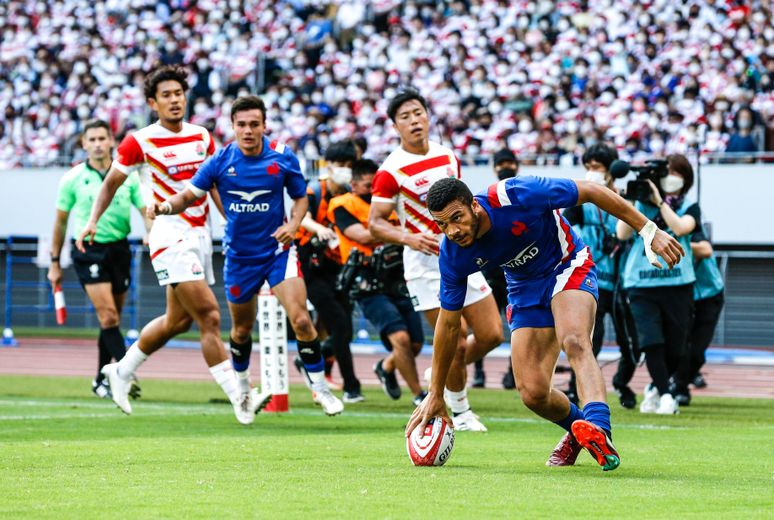 10. Matthieu Jalibert: 4.5 / 10
The Bordeaux people were not as inspired as last week. Most of his many kick-off games were too neutral, offering stimulus balls to three-quarters of Japan. Offensively, he tried less and his initiatives have rarely paid off as in this first-hand action where he commits a striker (25th) and in this outing in the closed where he serves Penaud on the sidelines (55th). In defense he has been generous, which has not stopped Tatafu from falling again in front of goal (75th). His interception (78th) will have been life-saving. But that is not enough for a player of this level.
9. Maxime Lucu: 3.5 / 10
The Bordelais were excessively sober. He weighed too little in the match, his emergency clearance was countered with a header from Lebel (16th) and his overhand was uninspired (31st). 2/2 in the penalty shootout. Replaced from 50 by Baptiste Couilloud who had the merit of invigorating the tricolor game. His choice to quickly play a penalty twice in a row will not have paid off (56th). The light has finally come from the top scorer in the Top 14, for inspiration and acceleration behind a dominant package (71st).
8. Yoan Tanga: 6/10
Defensively, he fought back after his last game. Best defender of the match (despite a failed entry on Tatafu at the worst time, fortunately without consequences), huge activity as his important competition of 62, Tanga experienced in return a certain offensive waste, with several duels suffered and especially this lack of attention to the party. the support of Bamba, which led to the loss of the ball at the origin of the second Japanese attempt.
7. Charles Ollivon: 5/10
In his role as captain of the roster, he has proven to be quite effective at finding the right areas
(15/16), although we can also regret an important ball lost against Waqa in the 52nd. For the rest, it has not yet regained its fullness, like an air duel lost under a Japanese dismissal (10th), fortunately without consequences. Perfect in his leadership in managing the last half hour, he allowed his teammates not to be scared.
6. Dylan Cretin: 3.5 / 10
He struggled to find his pace, such as a one-on-one defeat on defense against Van den Heever and generally insufficient activity, especially on his sometimes offensive support at the wrong time. He was substituted in the 43rd minute by Racingman Ibrahim Diallo, in charge of scoring the colossus Waqa in his pants, and who did not fail in his mission although he also suffered some delays in support.
5. Thomas Jolmes: 3/10
Author of an excellent first half hour last week, he didn't start at the same pace, fit two gross ball losses (6th, 33rd) and missed several tackles, especially in front of him Waqa. Replaced in 43 by Thomas Lavault, who struggled with his characteristic style, without yielding to his sympathetic sin of indiscipline but without really weighing in on the debates.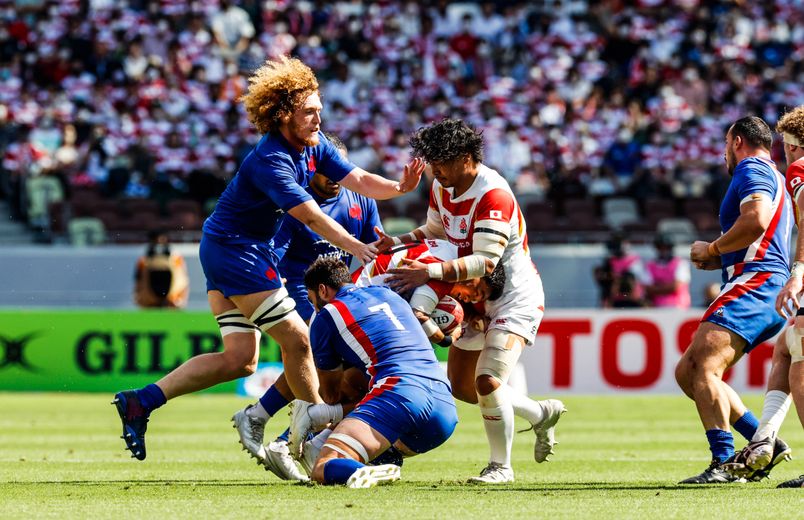 4. Thibaud Flament: 5/10
In a game pretty hardened by combat, he felt much less comfortable than a week before. Little in sight at the start of the match, except for a stupid delayed entry granted to the mixed Japanese midfielder. He still had the merit of securing the touch and intelligently recovering a ball that was reduced after an aerial duel lost by Jalibert (32nd), although he ensured in melee despite his first step to the right. Penalty for a fall (64th) after a disagreement with Lebel.
3. Demba Bamba: 4.5 / 10
Author of a striker who damaged a losing ball in the throw, he has recovered immediately by putting the foul in front of him in scrum. The starting point of a good performance in this sector, where he corrected the situation with respect to the first test. A little less verve in the current game, he was sanctioned for offside near his line (18th) and even suffered some impacts, in defense and attack (new striker in the 42nd). Replaced in the 45th by Sipili Falatea, who concentrated his efforts on the closed mix with more or less success, although Couilloud's try owes him a lot.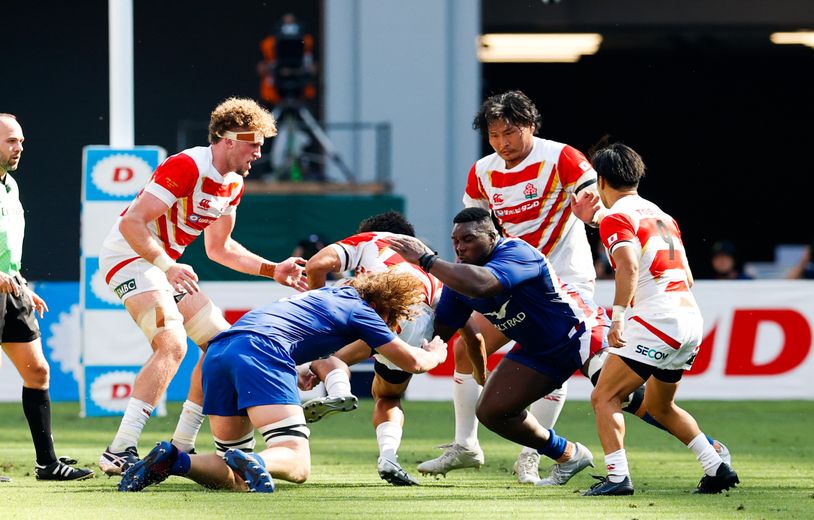 2. Peato Mauvaka: 5/10
Particularly targeted by Japanese defenders, he struggled to express himself in attack, even in the back of the tricolor balloons where the Japanese wandering hands forced him to remain attached to the package. On the other hand, he was one of the most incisive tricolors in defense, with two losses won and a major penalty recovered in a prominent Japanese (35th). Replaced in the 43rd by Pierre Bourgarit who blew cold and heat, especially in this last too short throw for Flament that offered a starting point in Japan.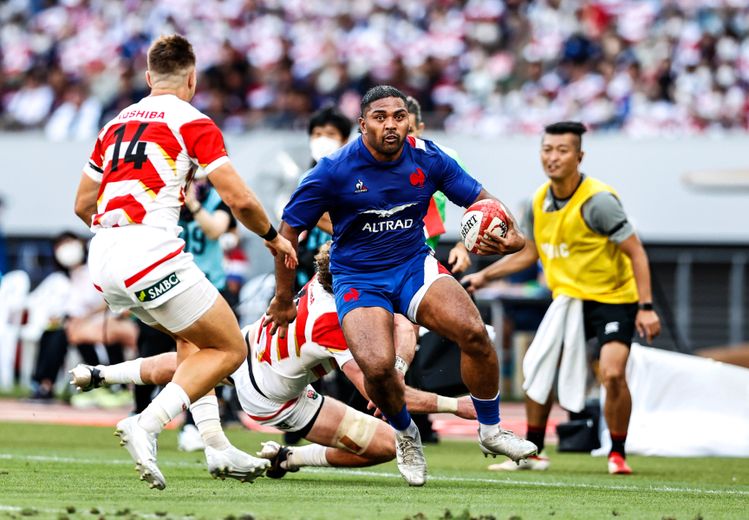 1. Jean-Baptiste Gros: 4.5 / 10
He stood out at the start of the match with a clear desire to weigh the ground game, as a magnificently won loss (5th). Unfortunately, he sometimes had trouble "ordering" his interventions, sometimes devoting himself poorly to rucks instead of reconstituting the line. Solid in melee, nothing more. Replaced in the 45th by Rochelais Dany Priso, who fought to recover two balls despite an aggression not always controlled (penalty stuck on the ground).