Before the resumption of the Supersport World Championship this weekend in Donington Park, we were able to ask Jules Cluzel to tell us why it was now very difficult for him to fight for victory.
It is true that the new regulations that authorize motorcycles with a displacement greater than your Yamaha R6 also require you to ballast it with 8 or 9 kilos, which is not the case of Dominique Aegerter leading the championship as he is a heavier driver.
However, the pilot of GMT94 it does not explain all its results to this state of affairs and, on the contrary, it puts it in perspective among other factors …
---
Jules, we will not talk about your known background and we will not talk about your current results (" Thanks, great ! replied Jules smiling) but we will try to make the general public understand why you no longer win when Dominique Aegerter leads the Supersport World Championship, with the same bike …
Jules Cluzel: "I'll talk as a pilot. It's quite incomprehensible, frustrating and annoying, but there are reasons. I don't know them 100% but I think it's the sum of many things. The factor of heavy riders and light pilots, it has an impact, it has an effect, but I don't think that fully explains our results.I don't think we were fully prepared when we started the first race and we were also unlucky: I was hit in the second race in Assen when we had made adjustments for evolve and maybe get closer to the podium Sure we weren't going to win it but the goal of the podium was possible.Storel, the same thing: I think we could get two podiums in both races.This was the goal and it was doable Unfortunately, I had a deadlock on the first gear and didn't have the proper reflex because when I put the gear back on the wheel I got stuck and fell in. And on the second race, the bike broke. So here it is, I think there are many, many things that, together, mean no it was like that. But anyway, it's clear that we wouldn't have done Aegerter's results, so there's a lack of performance that's obvious and visible. The goal is to fill the gap, although for me it's unthinkable to be world champion this year – I saw from the first race that we weren't ready. Now, the goal is to do as last year, that is, find solutions to get back on the podium and try to regain races. »
To illustrate what Jules Cluzel Explain, Remi Guyotpresent during the interview, then provides some details: "This year, we were offered new electronics with a blipper and other openings. For this to work on the R6, it had to be tested and equipment was selected to develop it, and so there was access before, but "It wasn't our case. So there, even in Misano (the last round), we understood little things about engine braking."
Jules Cluzel resumes: "What is unfortunate is that it was a race and not training. The others were already prepared before and that's why I say we weren't prepared for that side. We had a terrible time in Estoril and did some testing in Nogaro, but it also rained. Therefore, the electronics made a big difference because the regulations were decided at the last minute and our engine was not ready: in the tests, we were with the original engine and drove for an hour dry. Then we left for Portugal and had another dry hour, without chopping too, and then it was over: it was the first race and we still didn't know whether to add 6kg or 10kg. In short, it was full of little details, but all together there are about 3, 4 or 5/10 that penalize us, and automatically the extra 3/10 I would put are not there. It's a set of things: when it works, you'll look for a little more, but when it doesn't work it's always more complicated. You are in a negative spiral. »
So somewhere, it's better to be this set of things than just the weight to add, on which you have almost no room for maneuver …
"Yes, it's a combination of things and I think we will have a little more important opportunities: in Estoril, I was third before falling and we could aim for second place. There was only Aegerter who was untouchable, to speak only of another Yamaha. To talk about the new bikes, during the last race, we arrived on Friday, and when I saw an MV in front of me I said "what is this? ". Since 2009, I've never seen so many differences between two bikes: in fact, it comes out better on a bend and the guy throws himself with 10 better terminals while you're in the asp! Well, that no longer happened .
Plus, there are good riders on these bikes! Casadei (MV Agusta) made mistakes earlier this year but no longer makes more and I can no longer advance, Manzi in a Triumph puts you on the needle, and the Ducati there are still experienced riders who do not make mistakes, so in the end even the first five or six are tricky! For us, today's goal is to get behind the two Kawasaki who are basically fighting for fourth or fifth place.
For me, okay, they want to develop discipline and it has to be done in the winter and properly. But given the weather, it was predictable and we knew I could give something like that, but maybe not so much. Basically, last year, in the last 6 races, we always fought for victory. All the time ! And even in the official winter tests in Aragon, I do the best overall lap of the two days. And two days later, the race weekend, it was incomprehensible! There are still weird things … we didn't get it all!
Overall, there are still positive things, but there are also a lot of questions and a weird spiral where teams end up doubting drivers and team drivers. »
At the level of other brands, which do you think is the most dangerous today?
"I didn't see too much Ducati, but the MV was pretty impressive. In fact, the characteristics of motorcycles are different: MVs and Triumphs turn at fast corners. In the Curvone, which is the fast bend of Misano, we have been put a tenth just in that bend. On acceleration we accelerated better and got out of the turns better, but instead as soon as we did 3, 4, 5, 6 they stopped. It's super frustrating, because in fact, if you want to move forward, after a while you can lose patience. I'm an experienced pilot, so I take my time. But if you have a young man who does not think, it is a direct blow, because, without exaggerating, you take three or four meters in a straight line, and in the end you have to delay braking three or four meters more. : at some point, it doesn't happen, because you don't have bad drivers! »
Before the Donington Park round, after just four meetings, Jules Cluzel appears in 12th place overall, at 156 points Dominique Aegerter.
Last year he finished the season in 4th place in the championship, in the fight for 3rd, after winning 4 times and climbing the podium 9 times.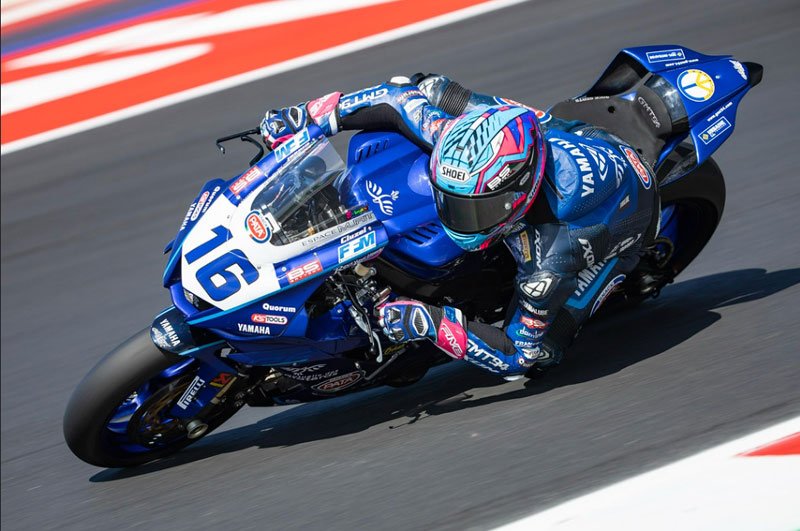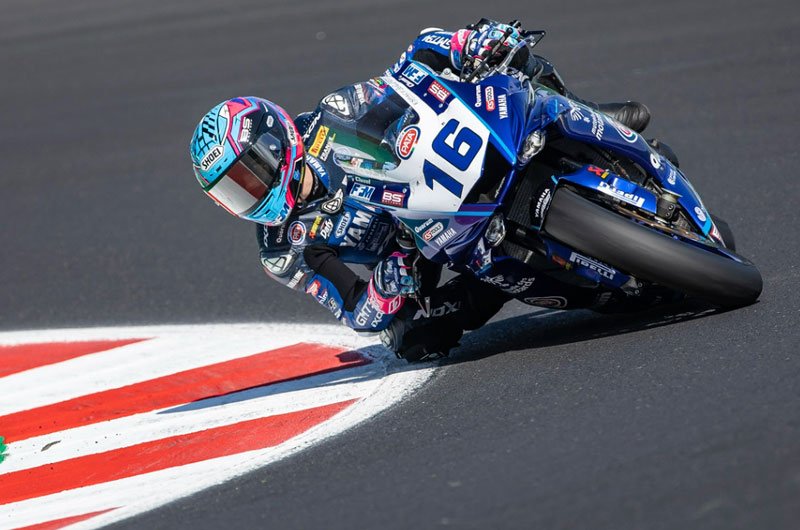 Images: GMT94