Following his feat in Assen, where the Mooney VR46 Racing Team rider crossed the finish line in second place less than half a second behind Francesco Bagnaia, Marco Bezzecchi secured a solid British Grand Prix at the iconic circuit from Silverstone.
After the five weeks of summer vacation, Marco Bezzecchi resumed somewhat laborious work on his Ducati Desmosedici GP 21, finishing FP1 over a second behind John Zarco. before closing the gap to 4 tenths Fabio Quartararo in FP2. Tenth in the combined classification, the Italian was relatively confident: "In FP1 it was difficult for me to pick up the pace, I wasn't 100% in several corners of the track, but we managed to make a good step forward between the two sessions and, in the afternoon, the feelings were very good. We are a little behind, but the pace is not bad. We can do Q2, it will be crucial, and then focus on choosing the best tires for the race. Soft or medium, both front and back. In FP3 we will probably try some upgrades and definitely pick up some speed. »
A bit of confidence shaken on Saturday morning when Marco Bezzecchi11th, he failed to make his direct pass to Q2 during FP3, before setting the 8th fastest time in FP4, by 7 tenths. John Zarco. The Rimini driver then responded by clocking 1'58.756 in Q1, his best time to date, to sneak his way into Q2. Enea Bastianini. Once in the big leagues, number 72 knew how to adapt perfectly, increasing the pace to 1'58.101! A very good progression that earned him 7th position on the grid, and all the hopes for the race…
"I expected more from qualifying: I expected a better lap time, but it wasn't enough for the first two rows. For the race we still have work to do, I have to find out exactly where I'm losing, and tire choice will be crucial. In FP4 I had some problems, I couldn't make the most of the session. Haven't had time to test the hard back and new fairing. It's a shame, I hope tomorrow morning the temperature will be high enough to work on the warm-up and define the last details. »
Fourth in the warm-up, Valentino Rossi's driver was able to confidently place himself on the grid, but this was without counting Enea Bastianiniplaced next to him on the grid, he made contact at the exit before going to do the same George Martin at the next moment, then dismiss again Marco Bezzecchi at the first corner: therefore he is 14th from the first hundred meters, and even P15 after two laps after a mysterious crash. An unwanted and damaging racing incident, but a racing incident nonetheless.
In these conditions, his 10th place finish leaves a bitter aftertaste of missed opportunity, confirmed by the seventh fastest time of the race. We bet it's just a reprieve for the rookie hoping for a GP23 next year…
Marco Bezzecchi: For the first time at Silverstone in MotoGP, I'm happy to have reached the top 10. A compromised race from the start because someone hit my rear wheel. I have to look more closely at the photos, I don't know who it was (Bastianini) – a few riders made contact in front of me and I had to go outside, losing a lot of positions. I couldn't do anything else. On the first lap, someone touched my leg at turn 17. The leather bears the marks and in this case I know who it was. I won't say anything, but it's on my list (?). Then I tried to recover and climb the rankings. I pushed hard, the pace was good, but the gap with the leading group was too big. I've been very strong on braking, I've felt comfortable going forward and it's a shame to have lost ground from the start. I made good use of the tires but I had to use them harder than I wanted and go a few laps softer. In the end, I was able to open the throttle again and pass Brad Binder, so I finished tenth. Let's take all the positives from this weekend to Austria, a circuit I really like, to take a step forward. »
Pablo Nieto: "A good race with Marco once again in the Top 10. Shame about the start, Marco had contact in the race with two other riders and lost contact with the group fighting for the top positions. He had a good pace then, he tried to climb the rankings to the Top 10."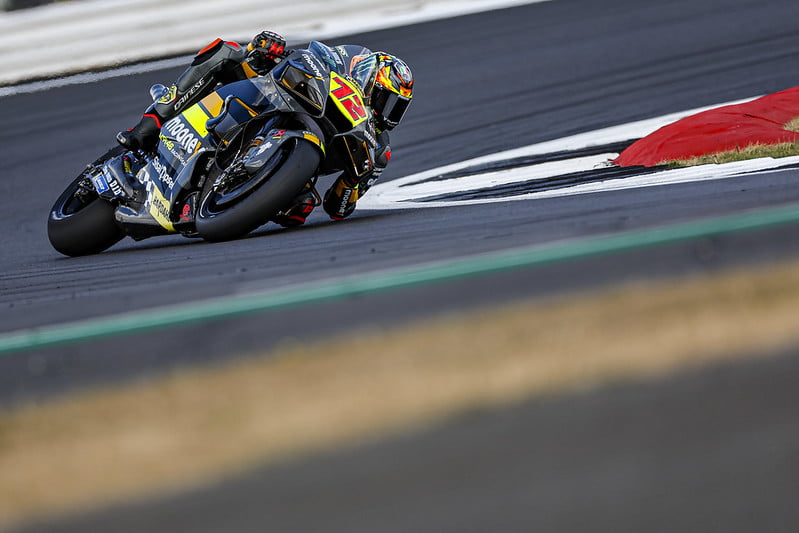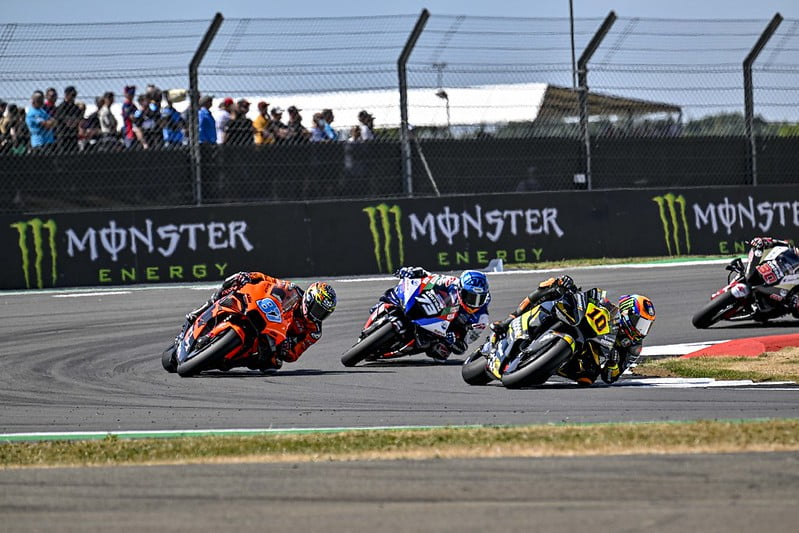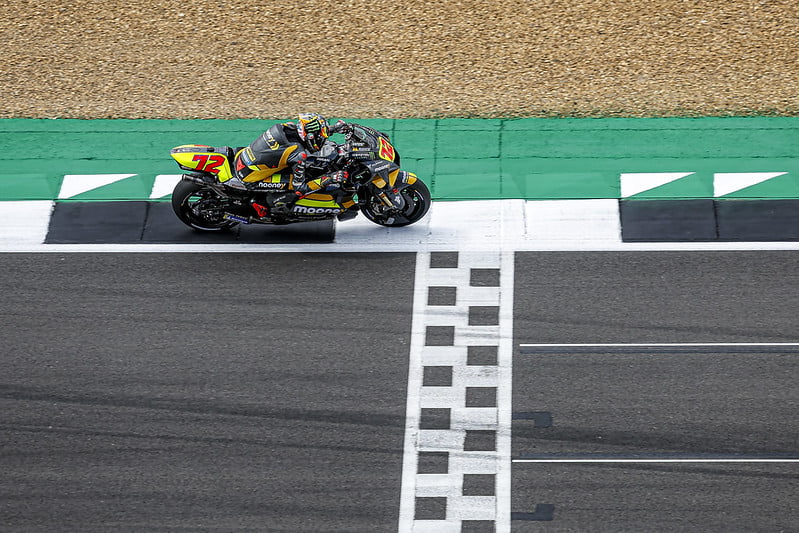 British MotoGP Grand Prix results: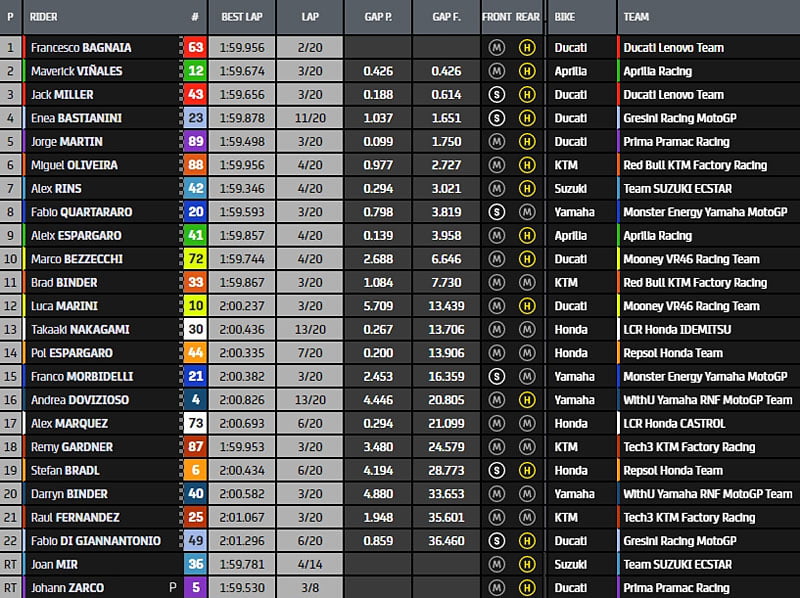 Qualifying credit: MotoGP.com
Translated with www.DeepL.com/Translator (free version)