The saying goes "never two without three", but the third crash of the British weekend was particularly cruel, ending the hopes of the French rider who had nevertheless been masterful from the start. British Grand Prix at Silverstone. A missed opportunity that has pushed the Pramac driver back from 3rd to 5th place in the championship.
Solid, very solid! Such was the performance of John Zarco on the British circuit after an apparently beneficial summer break. Leader in FP1 and pole man on the starting grid, the two falls suffered before the start of the Grand Prix had not damaged either the morale or the physique of the Pramac driver who started flawlessly when the traffic lights went out, even to the point of taking several steps. ahead on the first lap – very good job!
A great job that, however, came to naught on lap 5 when the #5 Ducati GP 22 went to bed losing front grip on lap 14.
The Frenchman analyzes the situation focusing on his front tire, a medium, as the winner of the event Francesco Bagnaiawhile Jack Millerthirdly, he had chosen to tender it.
" I was unlucky today. The high temperature led me to take this medium in the front, which was a good tire since Pecco won there. But for me, it is the cause of my accident, because we always have a little less grip with this compound. I was too worried about taking the soft and not finishing the race with a good pace. On the other hand, I knew the medium quite well, so I was quite confident and the first laps were quite good. But I was surprised by turn 8 and I'm clearly disappointed. During testing I approached this corner much faster and stayed with the bike. This time it was impossible. The positive thing about today is this feeling that I was able to take during the race and understand even more this tire that sometimes seems like a difficult choice because for nothing you can be a hero or a zero. It's a bit difficult. »
" My start was good, and I was surprised to be in front at the first corner. No one seriously attacked me and it was nice to lead the race. I thought with the tire things got better every lap. I was really fast for the first two laps, then I slowed down a bit on the third lap. I had a good feeling and found my rhythm. But like I said, I was surprised because I had already gone through this corner much faster in practice, staying on the bike, and it wasn't this time. possible »
" From the start, I attacked to take off. In 59.7 I'm quite happy, and in the second lap I did a little better, but I don't think I'm that much ahead, in any case Miller was following me well. Afterwards, I don't know if I already had a small gap with the others or not. It's only three rounds after all! Making a small mistake in the third lap and dropping the pace in 2'00.2, I said to myself: "Okay, now I have a bit of orientation. With the 2'00.2, you don't attack and I don't lose space"… yes, there was a way to relax to find your rhythm.
I saw that I couldn't let the boys go right away, but I wasn't worried. »
As usual, Johann Zarco keeps the positive…
" It helps me better understand this limit of grip that the front tire sometimes gives or doesn't give. Pecco is very sensitive about it, me a little less, I'm much more sensitive with the rear tire. Everyone took the hard because it was hot, but it made sense to switch to the medium tire up front in this heat. But there, it wasn't really a matter of heat, but more of the track, and given my style, the software would have been better. »
" At first, I was sad that I didn't take my chance. It's hard to put it all together to win. I hope to be in good shape again in Austria. What I felt this weekend, and especially during the race, helps me to progress with the Ducati and to have even more sensations as I want. »
" I'm not going to stop, I'm not going to dismantle either. The positive is that I had some interesting sensations in the race. It feels good to open up good feelings again to keep aiming high. You have to develop things and there, I was in the game! »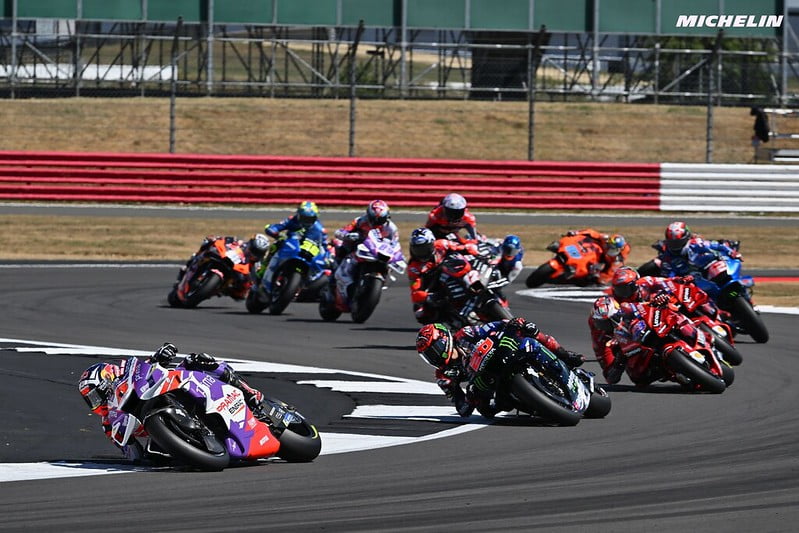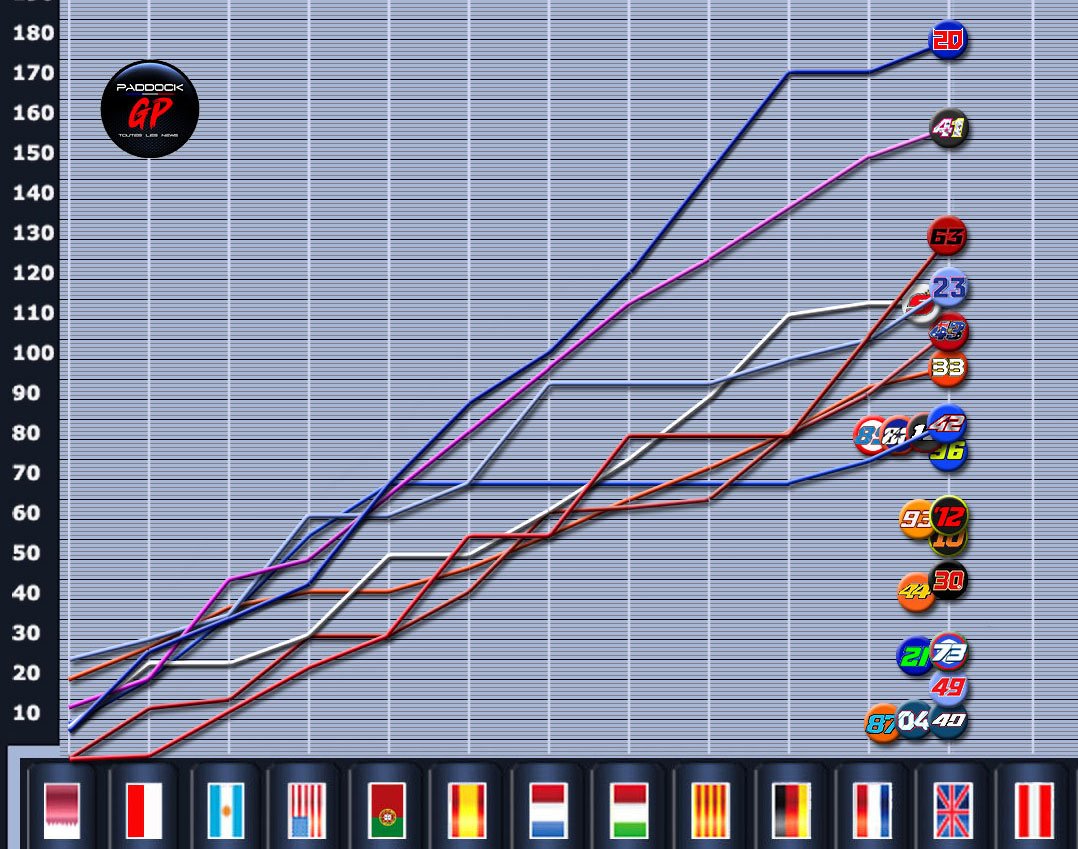 British MotoGP Grand Prix results: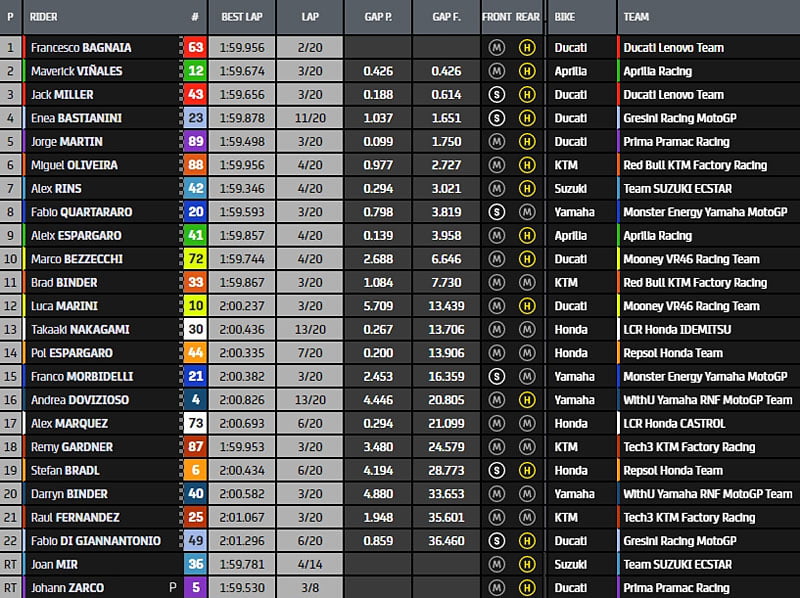 Qualifying credit: MotoGP.com