With only the three main contenders for the world crown grouped on 17 points with 5 races to go, Fabio Quartararo, Francesco Bagnaia and Aleix Espargaro, the MotoGP World Championship is more wide open than ever, not to mention the fourth man who points and could very well. come and mingle in the final showdown!
Given the current dynamics of each, Francesco Bagnaia emerges as the strong man of the championship. Author of six victories in the last seven races he has completed, the Ducati official does not take half measures and shows a certain serenity in front of the current leader, Fabio Quartararoa three-time winner who is only 10 points ahead of him after building a 91-point lead over the Turinese in Germany.
In third position, just 7 points behind the Borgo Panigale pilot, Alex Espargaró he only has one success in Argentina but is based on unerring consistency, being the only driver to score points in every Grand Prix. Against his two tough rivals, it may be a bit tight to claim the world title, and the top step of the podium would be welcome again, both morally and in terms of points tally.
Before Aragon, we thought that the crown would be played for three, but that was to forget the three trophies already won by Enea Bastianininow completed with a fourth victory in Alcanyís, which now brings the future partner to Francesco Bagnaia 48 points from the top after a hectic Spanish round.
An even more uncertain overall situation as the 16th round of the World Cup will take place for the 22nd time on a Twin Ring Motegi circuit not visited since 2019 and in still very uncertain weather conditions.

Without even knowing how the surface has evolved in three years, we can see that of the 24 riders registered, no less than 10 of them have never been in MotoGP (Enea Bastianini, Luca Marini, Jorge Martin, Alex Marquez, Fabio Di Giannantonio, Brad Binder, Darryn Binder, Marco Bezzecchi, Raul Fernandez and Remy Gardner).
Two wild cards were to round out the troop, the HRC test pilot Tetsuta Nagashimathe Team Suzuki Ecstar test rider, Takuya Tsuda but the package of John Mir forced Team Suzuki to register Takuya Tsuda as a replacement driver. "It's an honor to join Team Suzuki Ecstar for this special weekend in Japan. I've been a member of the test team since the start of the project and have already taken part in a few races for the team, but this This weekend will be something different – ​​it's Suzuki's last MotoGP race in Japan and I can't wait to race the GSX-RR in front of the home crowd."
Still in the chapter of injured pilots, Takaaki Nakagami he was declared fit to participate in FP1, after which he will be checked by doctors.
Fabio Quartararo He's still hurting a bit from his accident in Aragon, but he said it shouldn't get in his way.
Waiting to hear more, the 25 drivers are preparing for it first free training session extended to 75 minutes on a track that has already received two light showers this afternoon but looks dry again with temperatures of 26° in the air and 28° on the ground, we enjoy these few moments live thanks to the official MotoGP.com website:
Previous references:
| | | |
| --- | --- | --- |
| Motegi MotoGP™ | 2019 | 2022 |
| FP1 | 1'45.572 Maverick Viñales (See here) | 1'44.509 Jack Miller (See here) |
| FP2 | 1'44.764 Fabio Quartararo (See here) | (see here) |
| FP3 | 1'54.710 Danilo Petrucci (See here) | (see here) |
| FP4 | 1'48.940 Marc Marquez (See here) | (see here) |
| Q1 | 1'46.695 Cal Crutchlow (See here) | (see here) |
| P2 | 1'45.763 Marc Marquez (See here) | (see here) |
| Heat | 1'45.816 Marc Marquez (See here) | (see here) |
| career | Mr. Márquez, Quartararo, Dovizioso (See here) | (see here) |
| registration | 1'43.790 Jorge Lorenzo (2015) | |
When the red lights go out…riders don't slow down when the track is dry, and that's for once. Alex Rins who leads the peloton, while Franco Morbidelli i Fabio Quartararo leaving the last one to help the struggling Italian pilot a little.
At the tire level, the rear medium is almost unanimous, while the options for the front are more divided.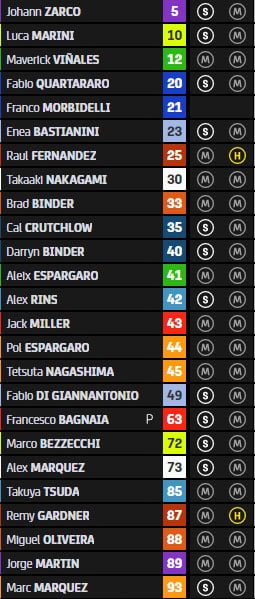 After the first lap flown, Marc Marquez he set the first reference in 1'46.888 ahead Fabio Quartararo i Franco Morbidelli. The Honda rider uses the Kalex aluminum swingarm.
Alex Rins he is immediately called to his box for a poorly fixed fairing.
On the next pass, The Devil clocked 1'46.661 before yielding to Jack Miller in 1'46.291 then regain the lead in 1'46.072.
Jack Miller he regained the lead in 1'45.903 while the first drivers were already starting to return to their posts.
After this first salvo, the hierarchy is thus composed Jack Miller, Alex Rins, Fabio Quartararo, Franco Morbidelli, Marc Márquez, Miguel Oliveira, Johann Zarco, Francesco Bagnaia, Enea Bastianini, Cal Crutchlow, Maverick Vinales, Jorge Martin, Marco Bezzecchi, Aleix Espargaro, Pol Espargaro, Alex Márquez, Fabio Di Giannantonio, Brad Binder, Luca Marini, Tetsuta Nagashima, Takaaki Nakagami, Darryn Binder, Raul Fernandez, Remy Gardner and Takuya Tsudaall staggered in 2.7 seconds.
After 20 minutes, Fabio Quartararo he still hasn't stopped and regains control in 1'45.807 before returning to his frame.
Raul Fernandez then shown with a rain tire on the back and jumps to 12th – tagging error?
Just after a third of the session, there are three Yamahas in the top 10, a situation not seen for some time! It's when the raindrops are announced…
It doesn't turn into a downpour and everyone is still stained.
Halfway through the session, the standings are now in place Fabio Quartararo, Jack Miller, Alex Rins, Francesco Bagnaia, Johann Zarco, Franco Morbidelli, Marc Márquez, Miguel Oliveira, Aleix Espargaro, Cal Crutchlow, Maverick Vinales, Jorge Martin, Luca Marini, Raul Fernandez, Marco Bezzecchi, Alex Márquez, Takaaki Nakagami , Pol Espargaro, Brad Binder, Fabio Di Giannantonio, Remy Gardner, Tetsuta Nagashima, Darryn Binder and Takuya Tsuda.
right after, Alex Rins lowers the reference to 1'45.738 equipped with soft tires front and rear. His Suzuki is equipped with small fins on the back seat.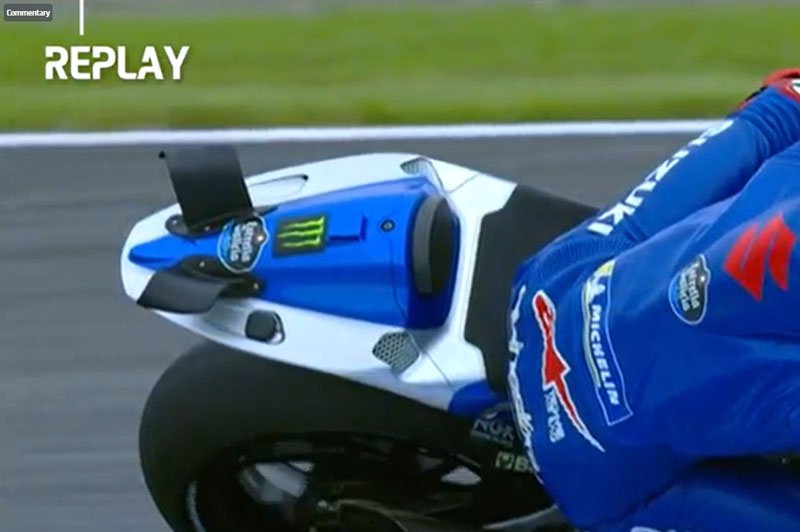 Tetsuta Nagashima made a small mistake in turn #11 while John Zarco set the fastest time in 1'45.309, also fitted with a soft tire at the rear, as Alex Espargaró which then takes over in 1'45.223.
John Zarco took the lead in 1'45.210 29 minutes from the checkered flag.
So two strategies have been mapped out, drivers who continue to work for the race on worn tires, and those who have already switched to a soft rear tire to ensure a time where we remind you that only FP1 will count and FP2 this weekend. -end for direct passage to qualification 2.
Fabio Quartararo is in that second category and, after fitting a soft rear tire to his Yamaha M1, moves up to third position behind John Zarco i Alex Espargaró. In the process, the Nice man scored a 1'45.029 at the top of the table, almost 2/10 ahead of his compatriot.
Enea Bastianini then he is the first driver to break the 1'45 bar, in 1'44.978, while Miguel Oliveira places his KTM in third position.
Marc Marquez then it's back to fourth with a medium rear tyre Alex Rins took command in 1'44.961 – the six manufacturers in the first seven places!
With seven minutes to go in the session, everyone is now using a soft rear tire and Jack Miller achieves 1'44.660 and then 1'44.509 on the handlebars of his Ducati despite being hampered by Takuya Tsuda.
Marc Marquez then get the second time, John Zarco the third, whileEnea Bastianini did a minor caper on turn #5.
John Zarco also made a small mistake on turn #7, same as Darryn Binder at number 5.
During this time, Luca Marini then Alex Espargaró get into the top 5 before Francesco Bagnaia he gets to stand right behind his partner.
In the end, while we wait for a rainy Saturday, Jack Miller, Francesco Bagnaia, Fabio Quartararo, Aleix Espargaro, Luca Marini, Marc Márquez, Pol Espargaro, Brad Binder, Miguel Oliveira and Maverick Vinales they are currently pre-qualified for Q2.
MotoGP FP1 Japanese Grand Prix results at Motegi: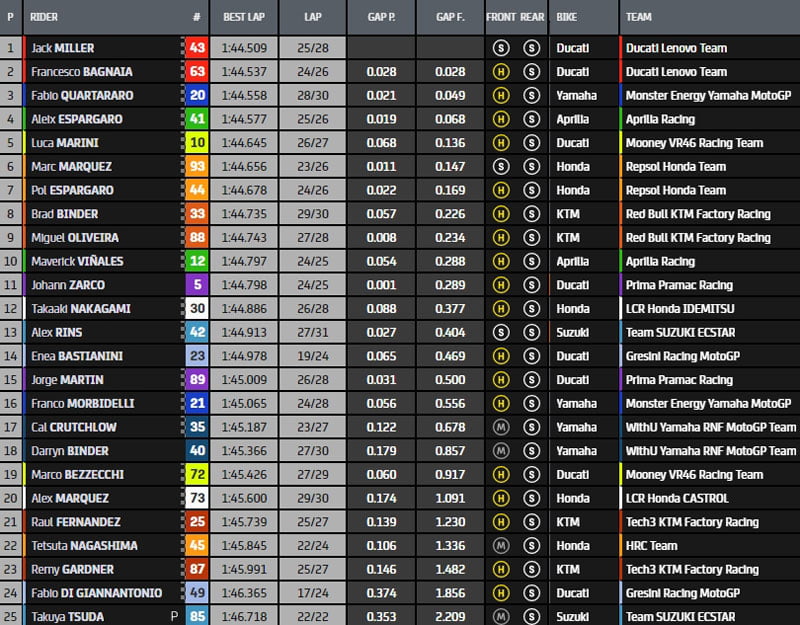 Qualifying credit: MotoGP.com