This Sunday, June 26, 2022, Maverick Viñales answered questions from TT Circuit Assen reporters at the end of the Dutch Grand Prix.
After the disappointment of seeing his Aprilia collapse at the Sachsenring, the Catalan was able to recover perfectly in Assen to get his first podium with Noale's RS-GP.
As alwayswe report here the words of Maverick Viñales without any format, even if it is translated from English.
---
Maverick, the race was tough as you started 11 and the rain flags were waved, but it's a fantastic first podium you get with the Aprilia factory …
Maverick Viñales : "It was a very difficult race but I had a lot of fun. We came from the Sachsenring where we thought we could fight for the podium, so we kept our motivation and momentum going. After the warm-up, I knew I could fight up front, but I never expected to get up so fast on the first lap. What can I say? Thanks to Aprilia because they are doing a fantastic job and have always believed in me every day, and we are getting these results step by step. I know our potential is very high and the road will be long, but now we go to Silverstone and Misano, many tracks where I am very fast and where I will try to fight for victory. It is not easy because there are very strong riders with a very high level, but little by little we are getting closer. »
Were you surprised to see Aleix Espargaro behind you at the finish line?
"Honestly, I thought he had given up (laughs) but I turned around and saw him,' oh, okay, it was really fast '. But anyway, I'm happy for Aprilia. We both wanted to get on the podium but I'm happy for Aprilia, for the whole Piaggio group, because they don't give up: they work hard! And I am also very happy for Aleix because he is approaching the championship and it can be a very good second half of the season. So we will fight for that. If I get a chance to help her, I will: I will help Aprilia! You know, our mentality is always teamwork, and from Mugello there are a lot of signals that we work really well together, and I think that makes us very strong. »
Ever since you joined Aprilia, you seem happy and growing faster – do you think this first podium will allow you to have an even better second half of the season?
"A lot has happened but right now I am the happiest man in the world: I can't ask for anything else! I have a very competitive bike, a very good group, a beautiful whole Aprilia factory that is behind me and that pushes me every day, I have a wonderful family – I can't ask for anything more! I dreamed of all this and I'm ready to attack, I'm ready to be up front. I will climb a lot every day, I will get even stronger, and it is not easy because the level is very high in MotoGP right now, but I know what I am capable of. So strength, strength and strength, and we'll see where I stand in the final races of the year. »
Six or seven races ago, you said you knew it was coming and you just had to put it all together: right?
"It's the result of hard work and not giving up every day. What we are is that my races have been very strong – I remember in Austin I was very strong but I started 15th and I couldn't prove it in the race. In Mugello we came very strong, Montmelo, Sachsenring, I felt that my potential was to be in front, but I have to improve the qualification because, okay, in the last two races I did a fantastic first lap and I went quickly to the front, but somehow I feel like my potential can be much greater if I start in the front or second row. So our main goal for the second half of the season is to improve the standings, because we are pretty strong in terms of pace. It's the only way, I try to start from the front, and then I'll be able to better manage the tire. So I'm ready! »
What exactly do you need to improve in the ranking?
"Right now, for some reason, I am not able to get the most out of the bike in the classification. Especially when I have a new rear tire, the bike pushes the front and I can't close the curve, so I go very slow in the middle of the curve and waste time. I usually do about the same times with a new tire and a worn tire. Which is fine, it's a good sign, because we're strong in the race, but we also have to adjust the bike to go for a lap. »
Could there be team orders during the second half of the season?
"Of course, if in the second half of the season I get stronger, we will improve and if Aleix will be very stony in the championship, it is clear that we will have to think about Aprilia. We have to think about the group, and if I have the opportunity in a race to be faster than Aleix and it is important that he finishes ahead of me for the championship, in the end I work for Aprilia and he is clear that I will. tries to help Aleix. We have worked well together since Mugello, we have found a way to work together to make ourselves stronger, so it is clear: if Aleix has a chance to fight for the championship, and I have to let him pass, I will. . We work for Aprilia, for the Piaggio group, and if Aleix has a chance, of course I will help him. »
You talk about your collaboration with Aleix and now we see you talking together during the sessions, but do you go further and also collaborate along the way?
"We work together almost all the time. For example, there are some topics where I do a small amount of things better than Aleix, and where he does a lot of things better than me, so it's a learning process: we learn from each other. Here I tried to help him a bit on turn 12 and he helped me on turn 15. This is the way to work, on the track we give our best but outside we have to work and stay focused: it's a season long and we have a dream, which is to make the world champion Aprilia, and it does not matter if he is the first or I the first. We want this bike to be competitive and at the top, and this is the way to do it: we help each other. At Mugello we helped each other in the gearboxes, and here I am trying to help Aleix in a few corners where I was stronger than him. And I learn from him every day, because he knows the bike very well and today it fits like a glove in his hand. I need to learn different things from him. »
Results of the Dutch MotoGP MotoGP Grand Prix at TT Assen: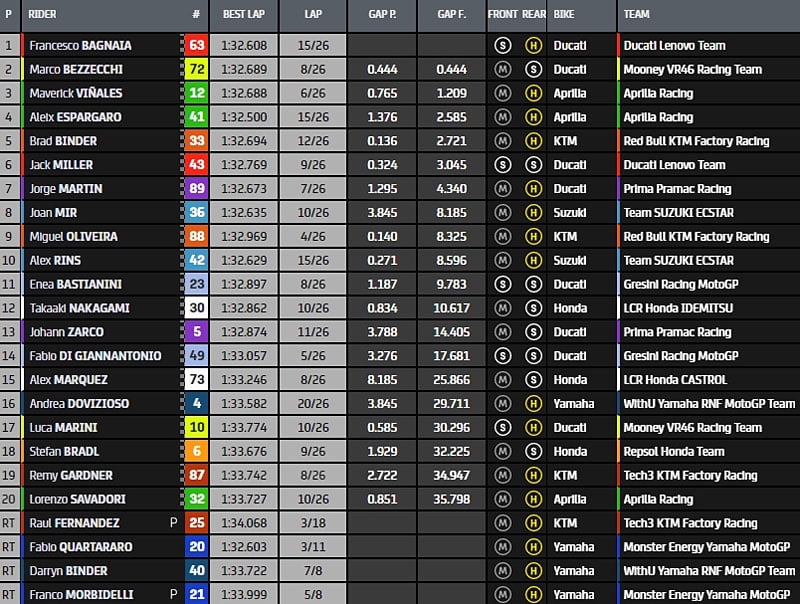 Classification credit : MotoGP.com