The Italian retired from the game in this eventful finish to the race.
A pack race: Here's the scenario we'll have witnessed this Sunday in Moto3™, with overtaking at every breath, even at the front of the stage. But in the end, it was Dennis Foggia who stood out on the last lap. The Italian thus achieved the eighth victory of his career, while recovering 25 points from the pair Sergio Garcia (Gaviota GASGAS Aspar Team) – Izan Guevara (Gaviota GASGAS Aspar Team), both forced to retire.
21 men for a win
When the lights went out, poleman Diogo Moreira (MT Helmets – MSI) held the lead, or at least very briefly, because there will actually be many riders leading this Grand Prix: from Izan Guevara to Ryusei Yamanaka (MT Helmets – MSI) via Deniz Öncü (Red Bull KTM Tech3), Tatsuki Suzuki (Leopard Racing), Dennis Foggia or Ayumu Sasaki (Sterilgarda Husqvarna Max). A car of 21 drivers was then drawn. However, the fight will be so intense that Dennis Foggia took advantage at one point to escape very slightly. Not really to the taste of Deniz Öncü, who rushed to make the connection, taking the whole package behind the wheel. The Turk finally got him out of the controls six laps from the finish, before being overtaken by Ivan Ortola (Angeluss MTA Team) and Jaume Masia (Red Bull KTM Ajo), who started 18th and 21st respectively.e.
A twisted end of the race
And then it all went away: Ayumu Sasaki hit Championship leader Sergio Garcia's steering wheel at Turn 13. Both men ended up on the mat. This incident could have benefited his main Izan Guevara, except that the latter could not prevent the fall of Ivan Ortola moments later. David Muñoz was caught alone, when he was in third position. Same for Tatsuki Suzuki.
The drama of Moto3™ sees the title leaders wear down in a thrilling race 07/08/2022
Suddenly, Deniz Öncü negotiated the final loop in the lead. Despite everything, the competitors will continue to fight within this group. Jaume Masia will overtake him, as well as Dennis Foggia and the Italian took cover as the checkered flag approached.
The business of Foggia
Which won ahead of n°5 and 53. Kaito Toba (CIP – Green Power) finished this test right next to the podium, accompanied by Stefano Nepa (Angeluss MTA Team) and Diogo Moreira. John McPhee (Sterilgarda Husqvarna Max), Ryusei Yamanaka, Andrea Migno (Rivacold Snipers Team) and Carlos Tatay (CFMOTO Racing Pruestel GP) completed the Top 10. Our Frenchman Lorenzo Fellon (SIC58 Squadra Corse) had to settle for a 13.e position
In the general classification, status quo between Sergio Garcia and Izan Guevara, still separated by three units. Dennis Foggia returns to his side at 42 lengths. The next race will take place in two weeks at the Red Bull Ring.
Top 10 of the race:
1. Dennis Foggia (Leopard Racing)
2. James Masia (Red Bull KTM Ajo) + 0.252
3. Deniz Oncu (Red Bull KTM Tech 3) + 0.297
4. Kaito Toba (CIP Green Power) + 0.738
5. Stefano Nepa (Team Angeluss MTA) + 0.762
6. Diogo Moreira (MT Helmets – MSI) + 0.881
7. John McPhee (Sterilgarda Husqvarna Max) + 0.932
8. Ryusei Yamanaka (MT Helmets – MSI) + 0.936
9. Andrea Migno (Rivacold Sniper Squad) + 1,108
10. Carlos Tatay (CFMoto Racing PrustelGP) + 1,790
Click here to access the results.
Relive the British GP and enjoy the entire Moto3™ season with the VideoPass.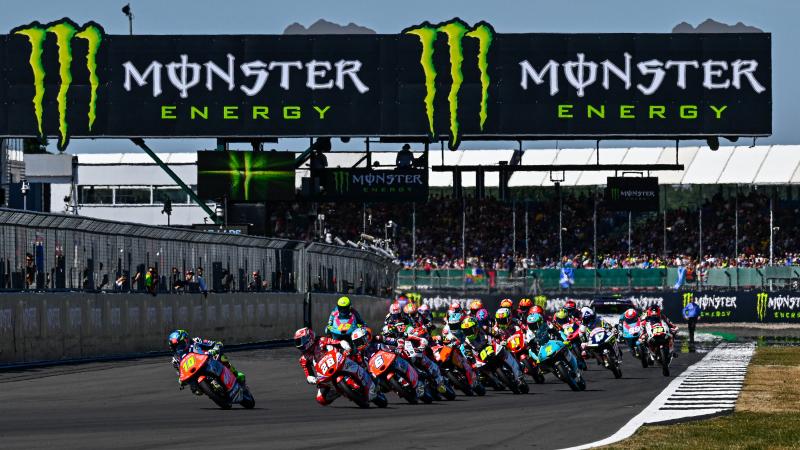 Moto3™: And the winner in Great Britain is… 07/08/2022