From July 1, 2022 and June 27 for those who have booked the "Champions" version, the official Formula 1 game has returned to our Xbox, Xbox Series, PlayStation 4, PlayStation 5 and PC. Does this F1 2022 (or F1 22) honor the franchise or, like FIFA, rest on its laurels? Like FIFA and that's good, as the two games are now united under the colors of Electronic Arts, F1 comes out every year. Instead of doing a redundant test of an annual game, we'll rather focus on what changes and whether this version deserves to be reviewed again. Let's go to our full F1 22 test!
F1 22, the complete test!
The least we can say is that Formula 1 has been transformed in 2022. One of the most important technical changes since the transition to the hybrid (among other things) is the new chassis that wears the cars. If we focus on the simple technical side, cars have a new design based on new regulations, a new size of tires and now deal with the return of the ground effect. Also note the appearance of the Sprint race as F2.
This year also marks the emergence of a new circuit based in Miami and changes in the layout of Abu Dhabi and Australia. Even if the game is under official license and therefore depends on the FIA ​​elections, this brings good news for the drivers, but especially for the players.
Also, in the news department, we can say goodbye to Jeff, our famous racing engineer who gives way to a new voice that has the particularity of being live from the garage. Understand that the voice is more dynamic and gives the impression of being in the heat of the moment.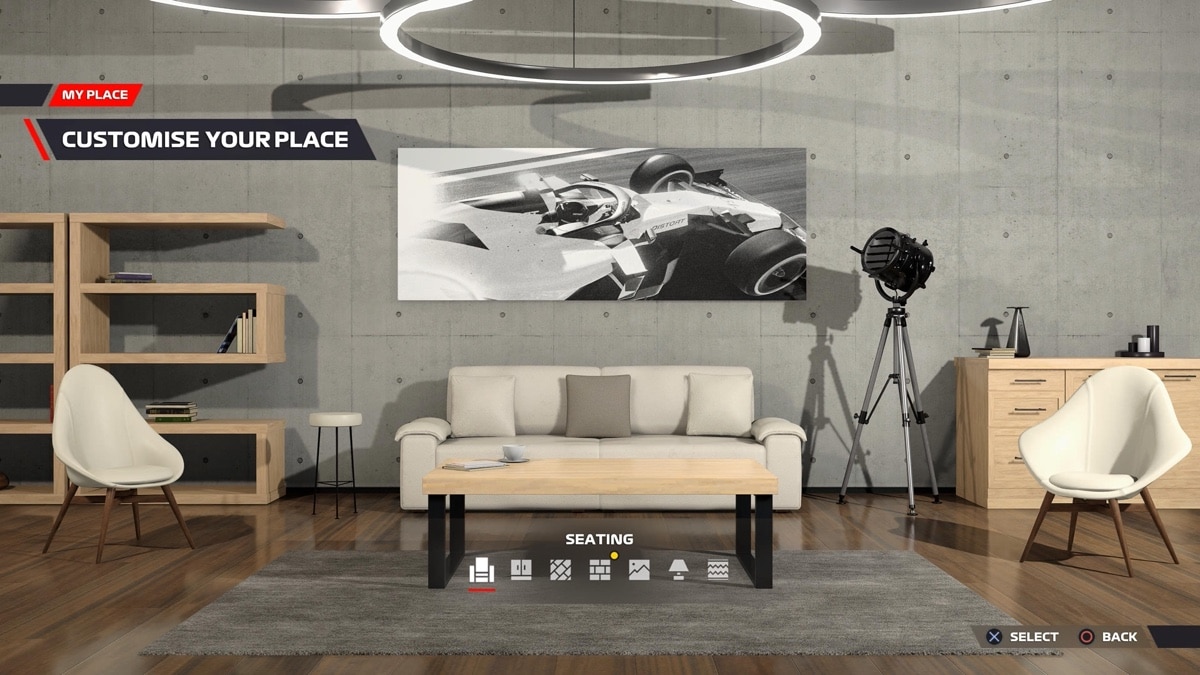 We haven't been able to prove it, but this year it's possible to play in augmented reality (VR) with the right team for the first time in a Formula 1 game.
By the way, did you like the "Breaking Point" story mode of F1 2021? Bad luck, there will be no sequel to F1 2022. Why? Because the creative director of the game wanted to focus on all the novelties of the next play. To be forgiven, EA offers us the "F1 Life" mode, which is supposed to recreate life off the tracks of an F1 driver. Well, let's face it, we ask ourselves a lot of questions.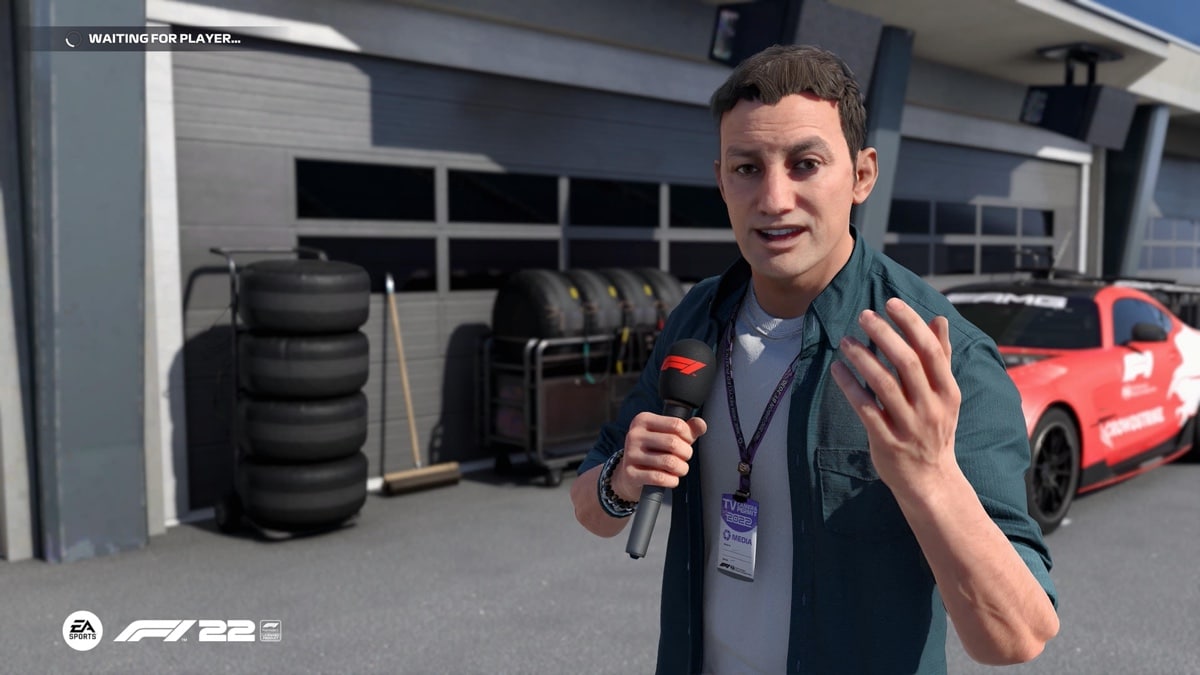 This year, say hello to F1 Life
In the new F1 Life game mode, the focus is on personalization, lifestyle and needless to say, microtransactions. It's a bit of an excuse to spend your points and money on clothes and for the first time in your home, like GTA. So it's not about walking around your kitchen and pouring yourself a glass of Sauternes, it's about choosing your furniture, paintings, sofa or coffee table. And why? Finally, have a lively and personalized background when browsing F1 Life. As for the aesthetic part, we turned around quickly.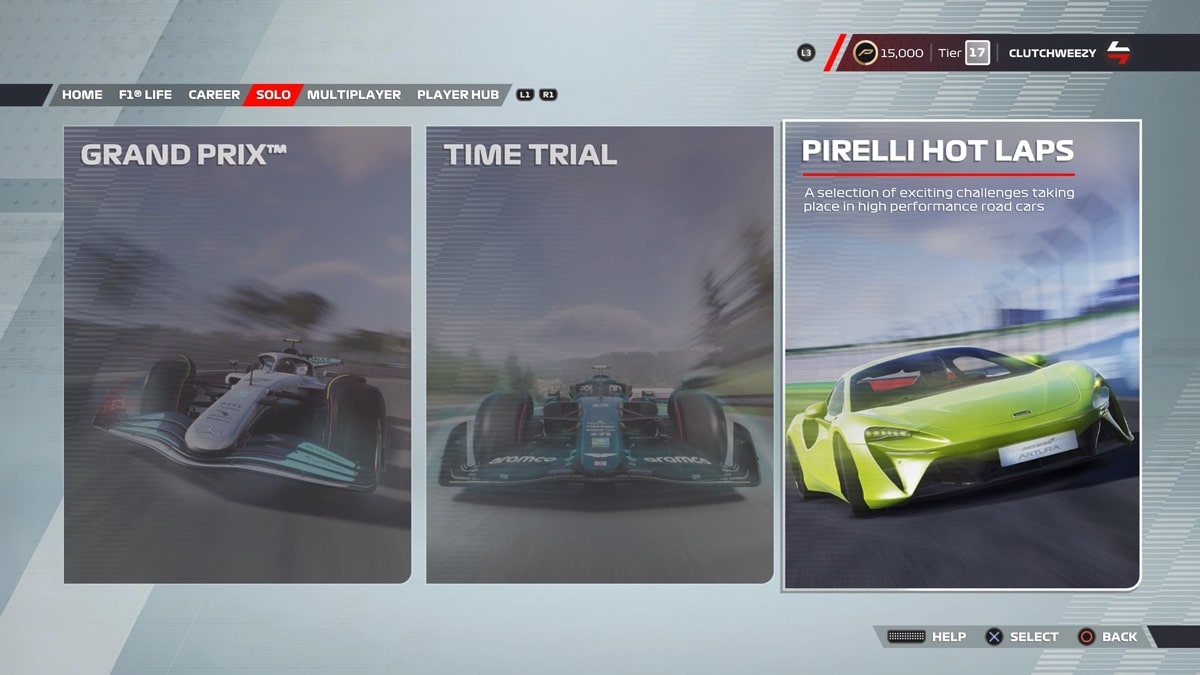 The real novelty and, for the first time in a Formula 1 game, they offer you to drive supercars. Not to run like a Gran Turismo, but only during the challenges of drifting, autocross, dueling, speed zone or control. Nothing revolutionary in the proposal with even lost passages. The drift is especially platonic and the other challenges have no depth.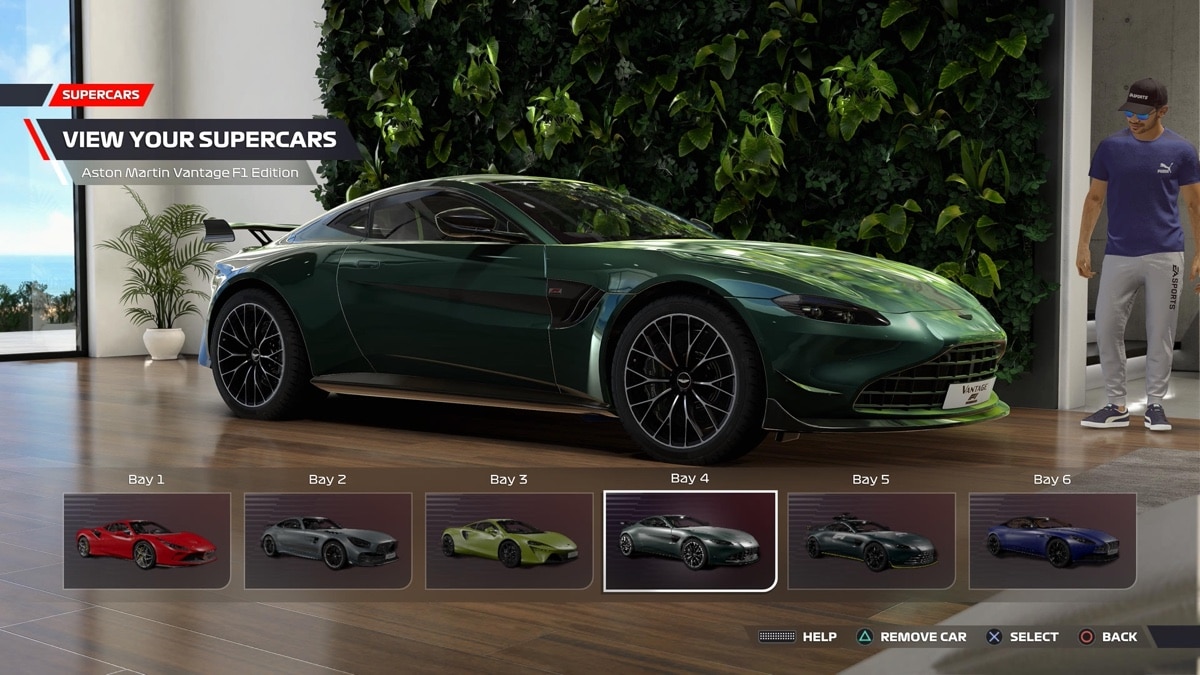 So yes, we like the possibility of driving a Ferrari F8 Tributo, an Aston Martin Vantage, a McLaren 720S or a Mercedes AMG GTR Pro, but if the gameplay weren't so casual, the shot could have transformed. Instead, he seems to be playing a poor car game. The vehicles are well modeled, but they are too heavy and boring. To tell you the truth, when you play an F1 game, it's driving a car. This may be a game you want to do too much and don't know which horse to bet on.
Finally, we really wonder what F1 Life is for. It's beautiful, it allows you to hang out with beautiful vehicles but all of that is not memorable.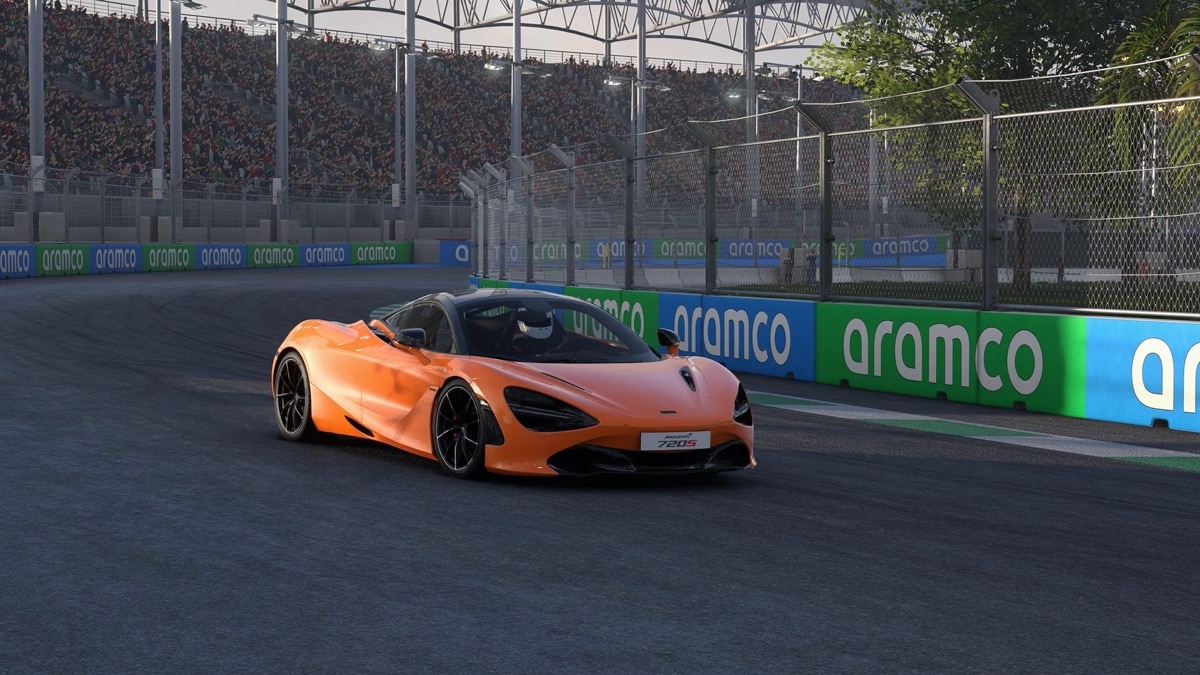 Still some regrets
As every year and for 4 years, we are once again disappointed to see that Codemasters prefers to focus on an "F1 Life" mode rather than focusing on what really makes F1 salt, i.e. l environment. We like, since last year, the interventions of Will Buxton that embodies the experience but we still wonder why we always have the same scenes, the same camera shots (with some modifications of the podium shots though) and especially the characters themselves. Like its customization. It would have been beneficial for F1 Life to offer a real chance to create a unique character, without using the same models for 4 years. We're starting to find the long time and we tell ourselves that Codemasters is advancing the envelope a bit.
The graphics engine is also starting to show signs of weakness in direction or even on PS5 and since F1 2020, we don't see any difference except in the light play. So yes, the vehicles are beautiful, licensed and fun to watch in both F1 and F2, but we are really looking forward to a new proposal for 2023 and a graphics engine change to send the game to the top.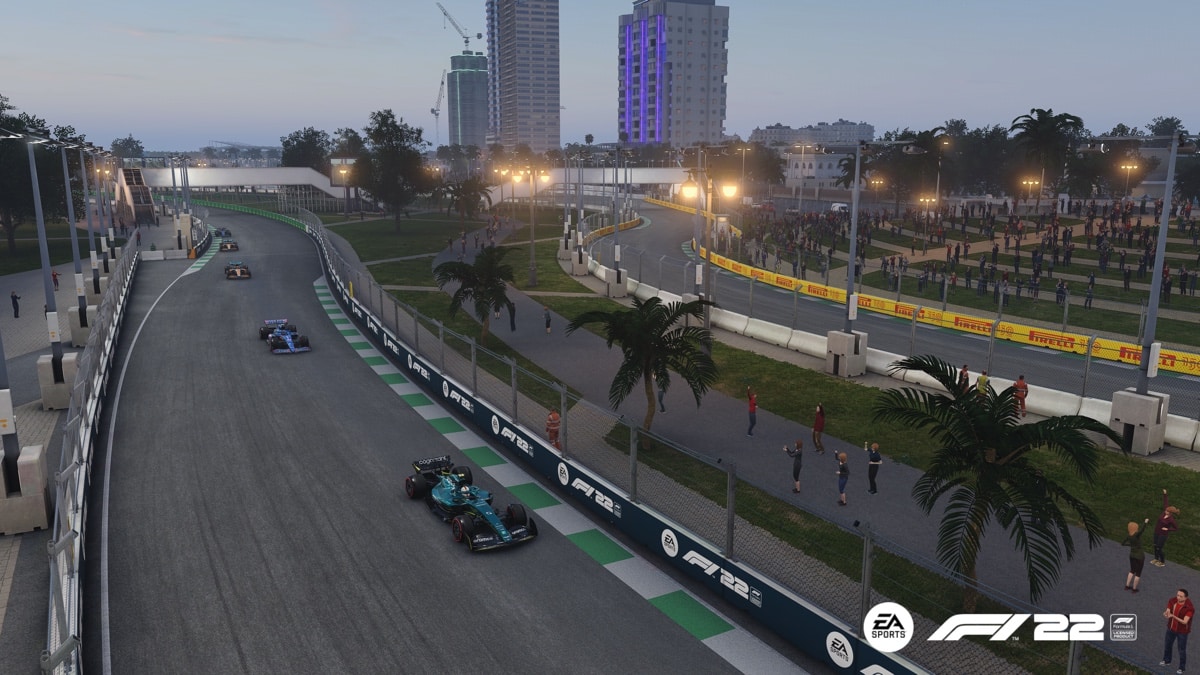 The My Computer mode available from F1 2020 is also identical. It should be noted that the proposal is compelling and we love to take ourselves for Horner or Toto Wolff with their own team, "negotiate" sponsors, create their own livery and improve their car, so why change? This we also ask ourselves.
Our essay seems to be dependent, but it is not. F1 2022 is a very good game. We also appreciate the addition of the team's probability of error during pit stops, that AIs can make mistakes under pressure and show some serious signs of aggression that sometimes make the experience stimulating. The new "immersive" box entry mode and paddock entry time by pressing the X button makes the stop in the box longer or shorter. We like it very much. The soundtrack is also very nice this year, electro which is a pleasure for the ears!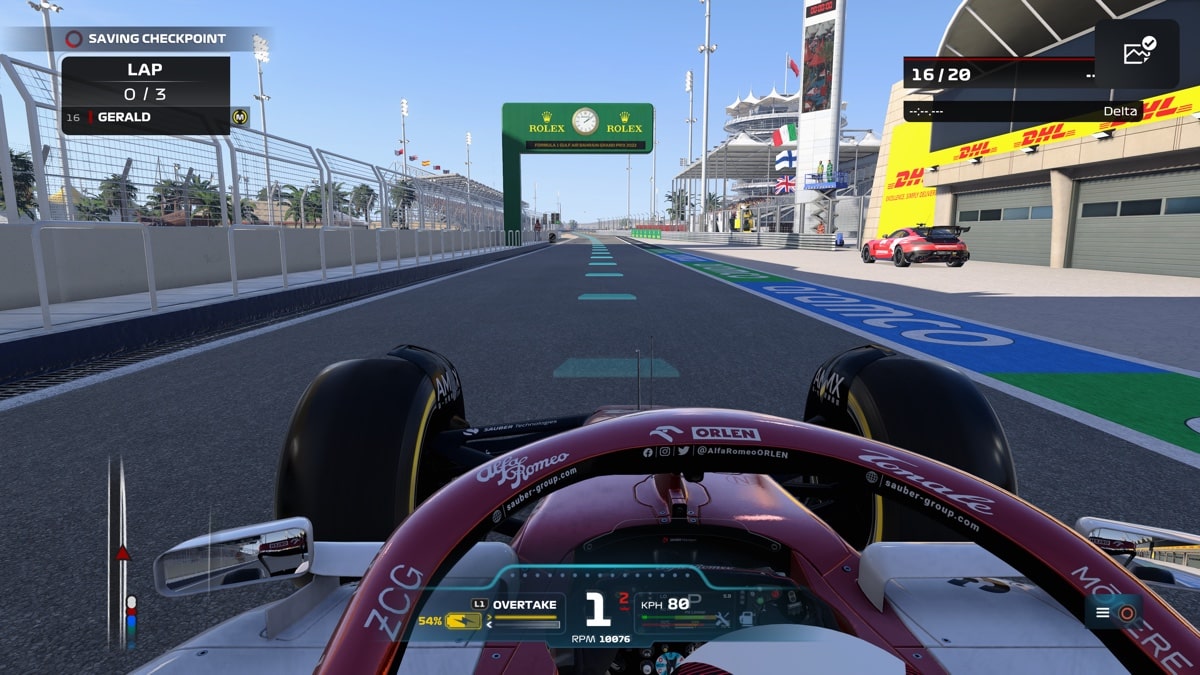 Impeccable or almost controller in hand
This year there is like a learning to redo. Cars are heavier and lower. Which gives the impression that they do not slow down or turn during the first laps on the track. Everything evaporates after spending some time on the asphalt. The unique pleasure of driving a car remains the best on all platforms in the hybrid and arcade simulation segment and it's important to say so. In addition, accessibility and help options allow both experienced and newcomers to enjoy driving at full speed.
However, and it is inexplicable in F1 2022, driving with the joystick with aids for the disabled has become almost impossible or very difficult. New cars may not lend themselves to it, but the resumption of acceleration is brutal and quickly puts you in the background. Even playing with the dead zone setup and button linearity, it's very tricky to drive these cars this year. At the wheel, nothing has changed and it is still delicious. The new tire management takes on a new dimension because you can really feel the new, cold condition coming out of the pits. The car does not respond as if it is hot and forces you to be careful. It is impressive compared to the F1 2021.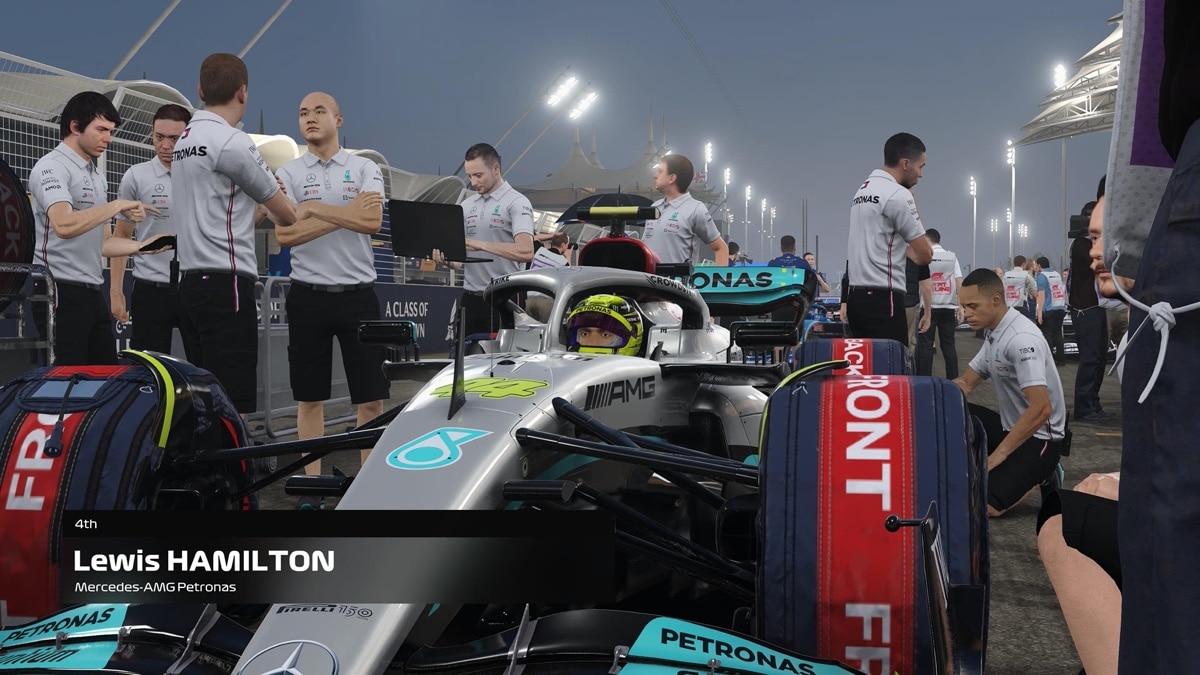 Fortunately, driving is the strong point of F1 2022 and there has been experience for years. In fact, we know there will be no surprises and that is quite reassuring.
Our opinion on F1 22
Is it really a problem if F1 22 is the 2021 version with a new skin? Not really … Last year the F1 2021 managed to offer a cohesive and complete package for all Formula 1 enthusiasts and it worked well. So it was tricky to find something better, or at least radically different. Codemasters tried the F1 Life mode to breathe a breath of fresh air, but it didn't work. In fact, we want to like this F1 2022 because we are fans of the discipline but being pragmatic, it is an F1 that has reached its limit. The Codemasters, with the support of EA, have to question and accept this very good base in terms of gameplay, but they have to delete and rework all the packages in the game. F1 should be inspired by FIFA to offer a definitive and licensed game and forget a bit about shopping from the app … Should we go back to the box? Yes, of course, aware, however, of not expecting a new, unprecedented experience, because the disappointment will not be far away.
F1 22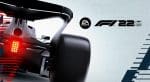 We love
It remains a very good level of F1 feel
The new car
MyTeam mode, always effective
The best soundtrack this year!
We love each other less
Always the same kinematics (like F1 2019, 2020, 2021 …)
Always the same animations (like F1 2019, 2020, 2021 …)
Always the same 3D models (like F1 2019, 2020, 2021 …)
An anecdotal and best-selling F1 Life mode