Gaya, the new French brand of electric bicycles, debuts with a solid and promising project: to offer a solution for urban mobility to families through an offer of two long-tail pedelecs capable of transporting one to three people to the back. All at an aggressive entry price.
It is on the banks of the Saint-Martin Canal, at 93 Quai de Valmy in the 10th arrondissement of Paris, that Gaya inaugurated the launch of the brand and orders for its first electric bicycles, in its newly opened store ready to welcome first customers. The place is ideal: for a pedestrian path where bicycles and residents mix.
Gaya is the result of a project led by Amélie Guicheney and Jacques Bonneville, two entrepreneurs with very different careers – experience in AI for one, in engineering and mobility for the other – but with a common vision: to develop a impactful project with a strong ecological impact.
Double channel sale
" Our prejudice was to make an electric bicycle within the reach of as many people as possible. We have been working on this project for a year and a half. ", Explains Amélie Guicheney, in the middle of the exhibition models. "We launched the site four or five days ago, with the official opening of sales ".
Source: Gaya
Source: Gaya
Source: Gaya
Source: Gaya
Because where Gaya is smart is his ability to rely on both an online and physical sales channel. Investing in an electric bike can cost a considerable amount of money. Not trying it, or even being able to see it with your own eyes, can sometimes discourage some people.
Above all, a physical store is reassuring. In case of technical error, it is possible to go to the Gaya store or call their available after-sales service 7 days a week. The brand goes even further and seeks to provide an educational vision of smooth mobility, transforming it into a training place in bicycle maintenance and repair.
A network of 400 members
The brand does not forget, however, the rest of France, as it has a network of 400 members – through "Find a repairman" and its dense network in the four corners of the country – formed to repair its two electric bicycles. If necessary, home interventions can be done.
More specifically, who is Gaya's offer aimed at? "To urban families", Who also participated in the design of the VAE. "We interviewed many parents, many women. What came out of it was the desire to have a comfortable bike, with an upright posture", continues Amélie Guicheney.
Source: Gaya
Source: Gaya
Source: Gaya
Today, two modelslong tailmake up the catalog: the Compact, sold for 1700 euros and able to accommodate a child or adult in the back, for a supported weight of 170 kilos. Gaya also wanted to take advantage of the world of electric scooters to improve the safety of his bike.
Specifically, it is a central support as well as indicators located on the back and at each end of the handlebars, which can be controlled by a remote control. This avoids moving to the right or left to indicate your intentions, which can sometimes affect your balance. Again, the emphasis is on user safety.
Various battery options
At the rear, the brake light lets other cyclists know you're braking. Adjustable power is again a good idea to tilt the handlebars according to your wishes and profile. Also note that the model weighs a total of 22 pounds on the scale, which is still relatively standard for an electric bike.
In a more technical aspect, the Gaya Compact benefits by default from a 450 Wh battery (2 years warranty), which offers a range of 70 kilometers … in Eco mode. Therefore, it is advisable to moderate this range if you use the most powerful assistance mode. A 600 Wh battery is available as an option for 150 euros.
Source: Frandroid
Source: Frandroid
Source: Frandroid
Source: Frandroid
Source: Frandroid
Placed in the rear hub, its 250 W motor offers a torque of 50 Nm. It is suitable here, although on a hill and with a rear adult passenger, it could get a bit windy. We will not fail to test it under these conditions for verification.
In terms of safety, Gaya bikes are based on a mobile app capable of geolocating and locking them remotely. When they are "under surveillance", The pedelecs do not give any electrical assistance. In case of suspicious movement, a notification will be sent immediately to your phone. A wheel lock completes everything.
A complete configurator
The "Cargo" model goes a step further when it comes to transporting people, as they can accommodate up to three children on their backs. The brand also offers a range of paid accessories to your configurator to customize your electric bike as you see fit.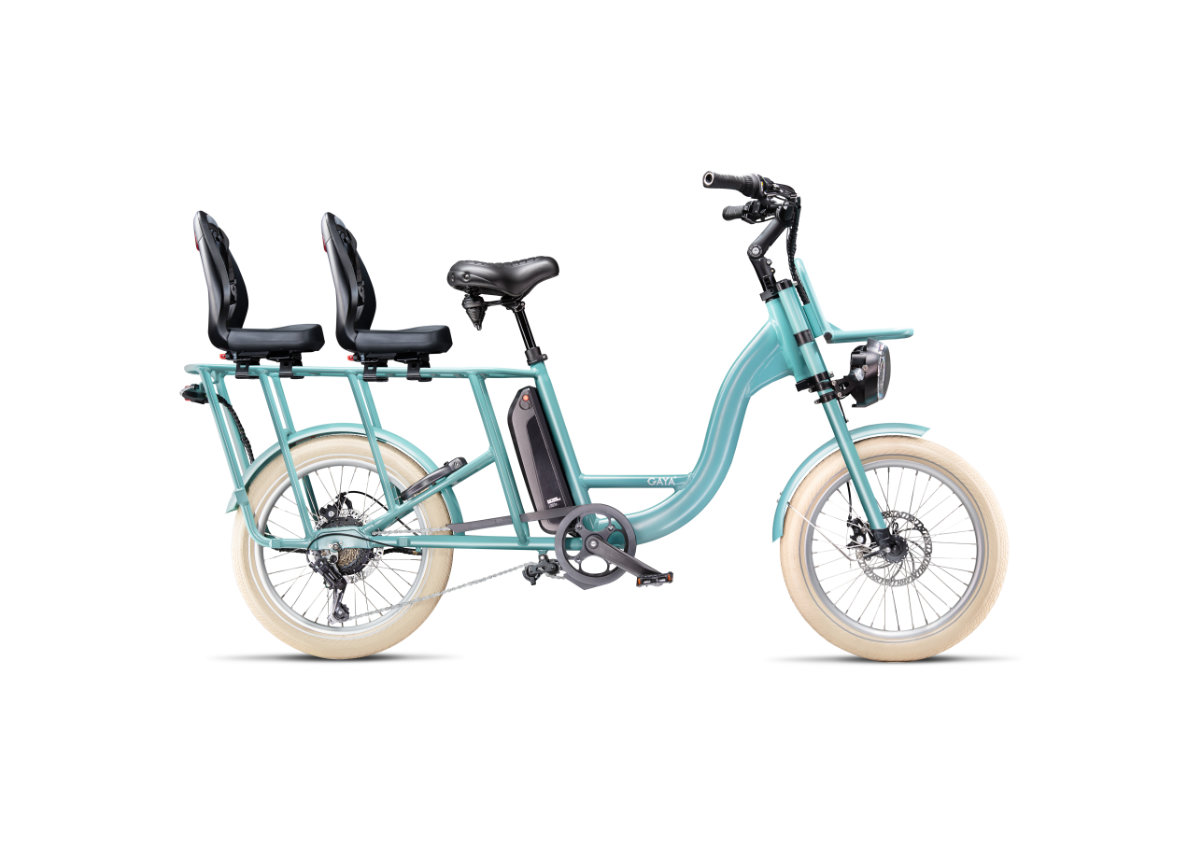 Weighing 28 kilos, the "Cargo" stands out thanks to its starter motor, a kind of trigger that gives you a little push when you start to push up to 6 km / h. With three kids behind, it might be helpful to get started. Battery level, you have the same options as your friend.
Overall, Gaya's offer is attractive, especially with an entry price of 1,700 euros, well below the Decathlon Vélocargo Longtail R500Elec (2,700 euros), Tern Quick Haul (2,999 euros) and Mustache Lundi 20 (from 4,599 euros). However, the note can go up quickly with the set of options.
The set seems equally consistent and offers a new mobility solution for families who want to cross the course of the electric bike.
---
To follow us, we invite you to download our app for Android and iOS. You can read our articles, files, and watch our latest YouTube videos.